#allmasksarebeautiful - Fighting COVID-19 Together
First of all: we hope you and your loved ones are all healthy throughout these hard times. The current situation is tough for all of us and we can only stand together as society and tackle it with everything each of us can do.
This post is about why we think we should wear (self-made) face masks and proposes the idea of companies giving benefits to people who wear masks.
While staying home and minimizing physical contact with others is one of the best things we all can do as individuals, there are times where we still have to go out, for example to buy groceries.
We believe, that whenever this happens, and we have to go to a supermarket or are in public transport, we all should wear face masks.
Don't get us wrong, most masks only provide limited protection for ourselves. The main reason, though, why we all should wear face masks is to protect the people around us.
It appears that even people with no or mild symptoms who don't know they are infected can spread the coronavirus, for example by coughing, sneezing, and talking - this happens mostly through fine droplets in the air.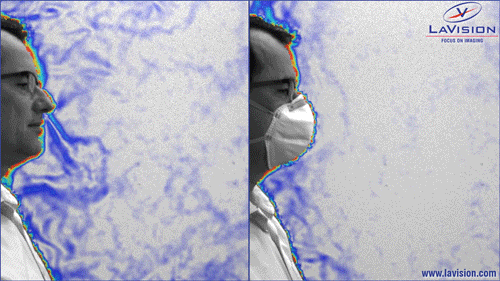 (Source: https://www.lavision.de/en/news/2020/4302/)
The video shows how a mask reduces the reach of exhaled air when coughing, breathing, and sneezing. So wearing a face mask in public places seems to be an obvious thing to do to protect others, doesn't it?
The plot-twist is that face masks are rare goods and are highly needed for medical workers and other heroes who work with at-risk people. So if we would all start buying professional face masks, it would be even harder for hospitals and retirement homes to get the masks they need.
Now the good news for those who don't have professional face masks is: making our own masks can still be very helpful to avoid spreading COVID-19.
The coronavirus has a diameter of ~0.12 microns. We put a list of household materials and how effective they are in blocking very small particles (0.02 microns) below.
Surgical mask - 89%
Vacuum Cleaner Bag - 86%
Dish Towel - 73%
Cotton Blend - 70%
Antimicrobial Pillowcase - 68%
Linen - 62%
Pillowcase -57%
Silk -54%
100% cotton T-shirt - 51%,
Scarf 49%
(David et al (2013) Disaster Medicine and Public Health Preparedness)
Consequently, most of us have the things at home that are needed to make a mask. Berlin-based design students came up with a list of home-made masks and put tutorials on their website: https://maskoncollective.de/
We believe that the public awareness for wearing masks should be higher. One thing we all can do is posting a picture of ourselves on our social media profiles, wearing a (self-made) mask and tagging #allmasksarebeautiful. We plan to conduct a list of companies supporting this movement!
If you made a post with a mask and #allmasksarebeautiful, send us your post to support@forsuperheroes.com with #allmasksarebeautiful in the subject line. Among all posts we get, we randomly pick out 5 and send them ForSuperHeroes testing packages for free. The winners will be picked by April the 30th 2020.
If you are a company that wants to join this movement - let us know at support@forsuperheroes.com and we will list you in this post! Please also send this to your favorite brands and ask them to join.